Bali, an Indonesian island known for its beautiful beaches, cultural attractions, and vibrant nightlife, is a must-visit destination for any traveler. With its stunning landscapes and rich culture, Bali offers a wide range of activities and experiences that cater to every type of traveler. Whether you're seeking adventure, relaxation, or a bit of both, Bali has something to offer. In this article, we'll provide a detailed 7-day itinerary for your trip to Bali, including suggestions for where to stay, what to see, and what to eat. So pack your bags and get ready to explore this beautiful island!
To start, here are some reasonably priced hotels near Kuta Beach in Bali (the starting point) for this itinerary to consider:
All of these hotels offer clean and comfortable rooms at reasonable prices. They also offer a range of amenities such as swimming pools, breakfast, and Wi-Fi to make your stay more enjoyable.
Day 1: Arrival in Bali
12:00 PM – Arrive at Ngurah Rai International Airport
1:00 PM – Check-in at your hotel and freshen up
2:00 PM – Explore the nearby area and visit the nearby beaches
6:00 PM – Watch the sunset at Kuta Beach
7:30 PM – Enjoy dinner at Warung Nikmat, a popular local restaurant serving Indonesian cuisine
9:00 PM – Return to the hotel for a good night's sleep
Day 2: Exploring Ubud
8:00 AM – Enjoy breakfast at your hotel
9:00 AM – Drive to Ubud, which is about 1 hour and 30 minutes away
10:30 AM – Visit the Sacred Monkey Forest Sanctuary
12:30 PM – Lunch at Cafe Lotus, a beautiful restaurant overlooking a lotus pond and serving traditional Balinese cuisine
2:00 PM – Visit Tegallalang Rice Terrace, a beautiful rice field terraces in Ubud
4:00 PM – Explore Ubud Art Market and nearby shopping area
7:00 PM – Dinner at Locavore, a fine dining restaurant with a focus on local ingredients and modern Balinese cuisine
9:00 PM – Return to your hotel in Bali
Day 3: Beach & Cultural Park
9:00 AM – Enjoy breakfast at your hotel
10:00 AM – Drive to Nusa Dua Beach
11:00 AM – Spend the day relaxing on the beach, swimming, and enjoying water sports
1:00 PM – Lunch at Bumbu Bali, a popular restaurant serving authentic Balinese dishes
3:00 PM – Visit Garuda Wisnu Kencana Cultural Park, a cultural park featuring a giant statue of the Hindu god Vishnu
6:00 PM – Dinner at The Warung at Alila Villas Uluwatu, a restaurant serving Indonesian and Balinese cuisine with stunning ocean views
8:00 PM – Return to your hotel in Bali
Day 4: Waterfalls and Temples
8:00 AM – Enjoy breakfast at your hotel
9:00 AM – Drive to Tegenungan Waterfall, one of the most popular waterfalls in Bali
11:00 AM – Visit Pura Tirta Empul, a Hindu water temple known for its sacred spring water
1:00 PM – Lunch at Karsa Kafe, a vegetarian restaurant overlooking rice paddies in Ubud
3:00 PM – Visit Goa Gajah, an ancient Hindu temple complex with intricate carvings and a cave
6:00 PM – Dinner at Mozaic Restaurant, a fine dining restaurant serving French and Indonesian cuisine
9:00 PM – Return to your hotel in Bali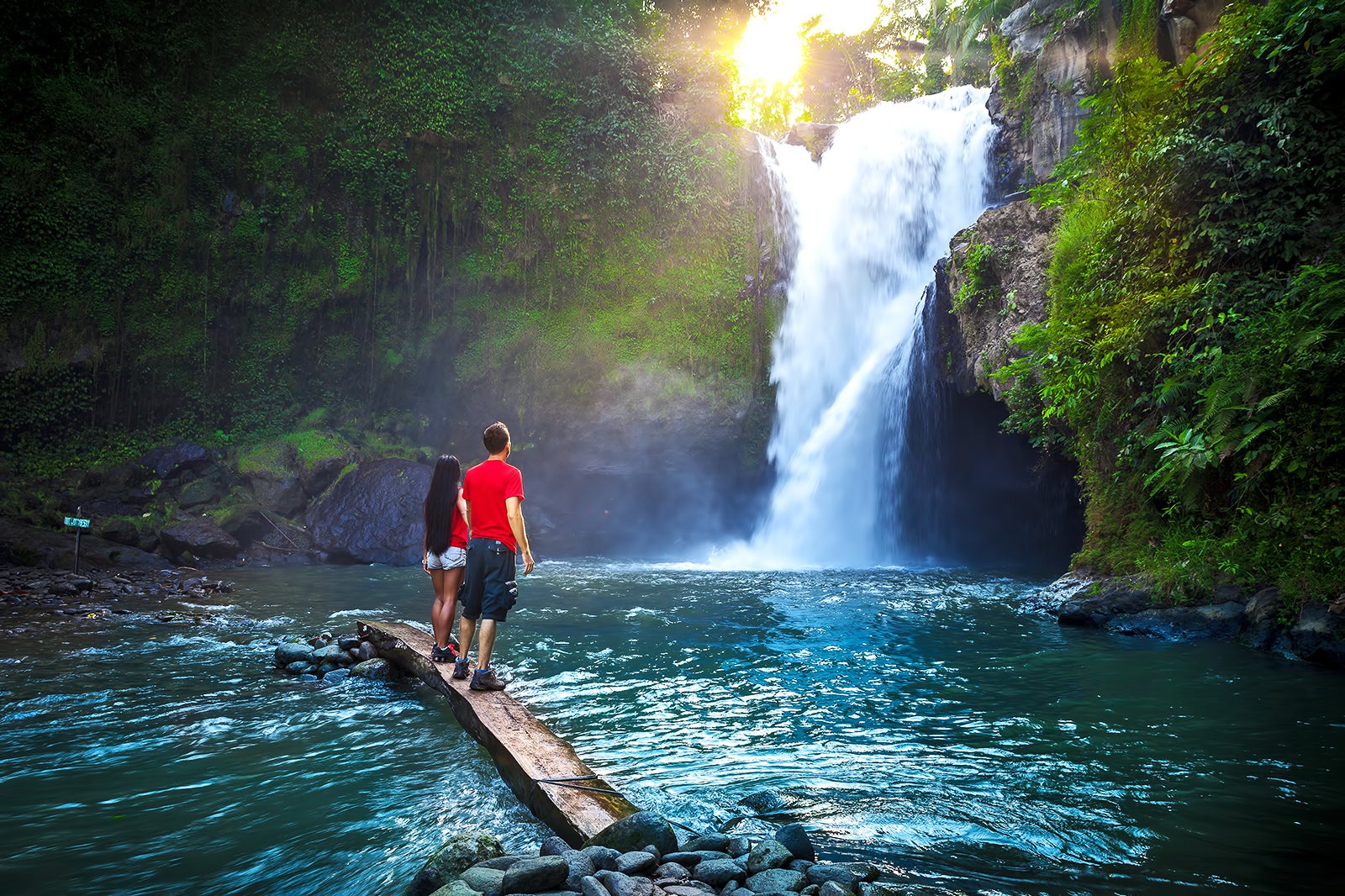 ---
Here are a few items that will come in handy during your Bali trip:
Bali's tropical climate can be unpredictable, so a lightweight rain jacket like the Columbia Women's Switchback III Jacket and BALEAF Men's Rain Jacket can come in handy. It's waterproof, breathable, and packs into its own pocket.
Bali's tap water is not always safe to drink, so a portable water filter like the LifeStraw Go Water Filter Bottle can be a life-saver, especially when hiking or exploring remote areas.
A lightweight backpack is perfect for day trips and exploring Bali's many attractions. The Venture Pal Packable Backpack is durable, compact and has multiple compartments.
---
Day 5: Sunrise Hike and Hot Springs
3:00 AM – Depart from your hotel for a sunrise hike up Mount Batur
6:00 AM – Watch the sunrise from the summit of Mount Batur
8:00 AM – Descend the mountain and drive to Toya Devasya Hot Springs for a relaxing soak
12:00 PM – Lunch at the Lakeside Restaurant at Toya Devasya, which serves Indonesian and international cuisine with beautiful views of the lake
2:00 PM – Drive to Tirta Gangga, a beautiful water palace with gardens and fountains
4:00 PM – Return to your hotel for some relaxation time
7:00 PM – Dinner at Sarong Bali, a popular restaurant serving modern Southeast Asian cuisine
9:00 PM – Return to your hotel in Bali
Day 6: Island Hopping
8:00 AM – Enjoy breakfast at your hotel
9:00 AM – Depart for Sanur Beach to catch a boat to Nusa Penida
10:00 AM – Arrive at Nusa Penida and visit Kelingking Beach, one of the most beautiful beaches in Bali
12:00 PM – Lunch at Warung Jungle Bali, a local restaurant serving Indonesian dishes with beautiful jungle views
2:00 PM – Visit Broken Beach and Angel's Billabong, two beautiful natural attractions on Nusa Penida
5:00 PM – Return to Sanur Beach by boat and drive back to your hotel
7:00 PM – Dinner at La Lucciola, a beautiful restaurant overlooking the beach and serving Italian cuisine
9:00 PM – Return to your hotel in Bali
Day 7: Exploring Seminyak
8:00 AM – Start early in the morning and head to Bali Handara Gate to avoid the crowds.
9:30 AM – Arrive at Bali Handara Gate and spend some time taking photos and enjoying the scenery.
11:00 AM – Leave Bali Handara Gate and head to Lake Buyan, located nearby.
11:30 AM – Rent a boat and go for a scenic ride on Lake Buyan or relax by the shore.
12:30 PM – Stop by at Warung Ayam Bakar Wong Solo for some Balinese food.
1:30 PM – Continue your journey towards Ulun Danu Beratan Temple, located about 30 minutes' drive away.
2:00 PM – Arrive at Ulun Danu Beratan Temple and explore the temple and its beautiful gardens.
4:00 PM – Rent a traditional Balinese costume and take some memorable photos.
5:00 PM – Stop by a local souvenir shop to pick up some unique Balinese handicrafts and souvenirs.
6:00 PM – Depart from Ulun Danu Beratan Temple and head back to your accommodation.
7:30 PM – Head out for dinner at a local restaurant or street food stall. Some recommended options include Ibu Oka for suckling pig, Made's Warung for Indonesian cuisine, or Babi Guling Pak Dobiel for roasted pork.
8:30 PM – Take a walk around Kuta or Seminyak for some nightlife and entertainment. There are plenty of bars, clubs, and live music venues to choose from.
9:00 PM – Return to your hotel in Bali
The departure date for your Bali trip may vary depending on your flight time. The itinerary provided in the article can be adjusted accordingly to fit your departure date.
What to avoid:
Drinking tap water, as it may not be safe for consumption
Walking alone at night in unfamiliar areas
Engaging with street vendors aggressively, as it may lead to uncomfortable situations
---
Here are a few more items for the trip:
A quick dry towel is great for travel as it takes up less space and dries faster. The Youphoria Outdoors Quick Dry Travel Towel is highly rated and comes in multiple sizes.
Capture your Bali adventures with a waterproof and durable GoPro camera like the GoPro HERO9 Black. It's easy to use, has excellent image stabilization, and can capture high-quality videos and photos.
Bali is known for its mosquitoes, so mosquito repellent bracelets like the Mosquito Guard Natural Repellent Bands can be a convenient and effective way to keep them away.
Protect yourself from Bali's hot and humid weather with a sun hat like the FURTALK Womens Beach Sun Straw Hat. It's lightweight, stylish, and provides great sun protection.
---
Here are a few more things you can add to you itinerary:
Transportation: Renting a car or hiring a driver is a great way to get around Bali, especially if you want to explore different areas of the island. Many hotels offer transportation services, so make sure to check with your hotel about options for getting around.
Spa treatments: Bali is known for its spa culture, and it's a great place to indulge in a relaxing massage or other spa treatments. Many hotels have their own spa facilities, and there are also plenty of day spas throughout Bali.
Local cuisine: Bali has a vibrant food scene with a variety of local dishes to try. Some popular dishes include nasi goreng (fried rice), mie goreng (fried noodles), and babi guling (roast suckling pig). Be sure to also try some of the local tropical fruits like mango, papaya, and durian.
Beach activities: Bali is home to some of the best beaches in the world, so make sure to take advantage of them. You can go surfing, snorkeling, scuba diving, or simply relax on the beach and soak up the sun. Many hotels offer beachfront activities, and there are also plenty of local operators that offer water sports and other activities.
Cultural experiences: Bali has a rich cultural heritage, and there are many opportunities to experience it firsthand. You can visit traditional Balinese villages, attend cultural performances, or even take a cooking class to learn how to make local dishes.
Shopping: Bali is a shopper's paradise, with a variety of markets and shopping centers offering everything from handmade crafts to high-end fashion. Some popular places to shop include the Ubud Market, the Seminyak Square Shopping Mall, and the Bali Collection shopping center.
Bali is a destination that offers a perfect mix of culture, nature, and relaxation, making it an ideal vacation spot for travelers. With this 7-day itinerary, you can explore the best that Bali has to offer, from beautiful beaches and temples to delicious local cuisine and luxurious accommodations. However, keep in mind that Bali is a popular tourist destination, and some attractions may be crowded, especially during peak season. Also, weather conditions may affect your itinerary, so it's always best to check the weather forecast before you plan your day. Finally, please note that this itinerary is meant to serve as a guide, and you should tailor your trip to your own preferences and interests. With that in mind, we hope you enjoy your trip to Bali and make unforgettable memories!
---