When it comes to food, Tokyo is a city that's hard to beat. From the traditional Japanese cuisine to international flavors, Tokyo's food scene has something to offer for every palate. So, whether you're a foodie looking for the ultimate dining experience, or just looking to explore the city's culinary delights, Tokyo is the perfect destination.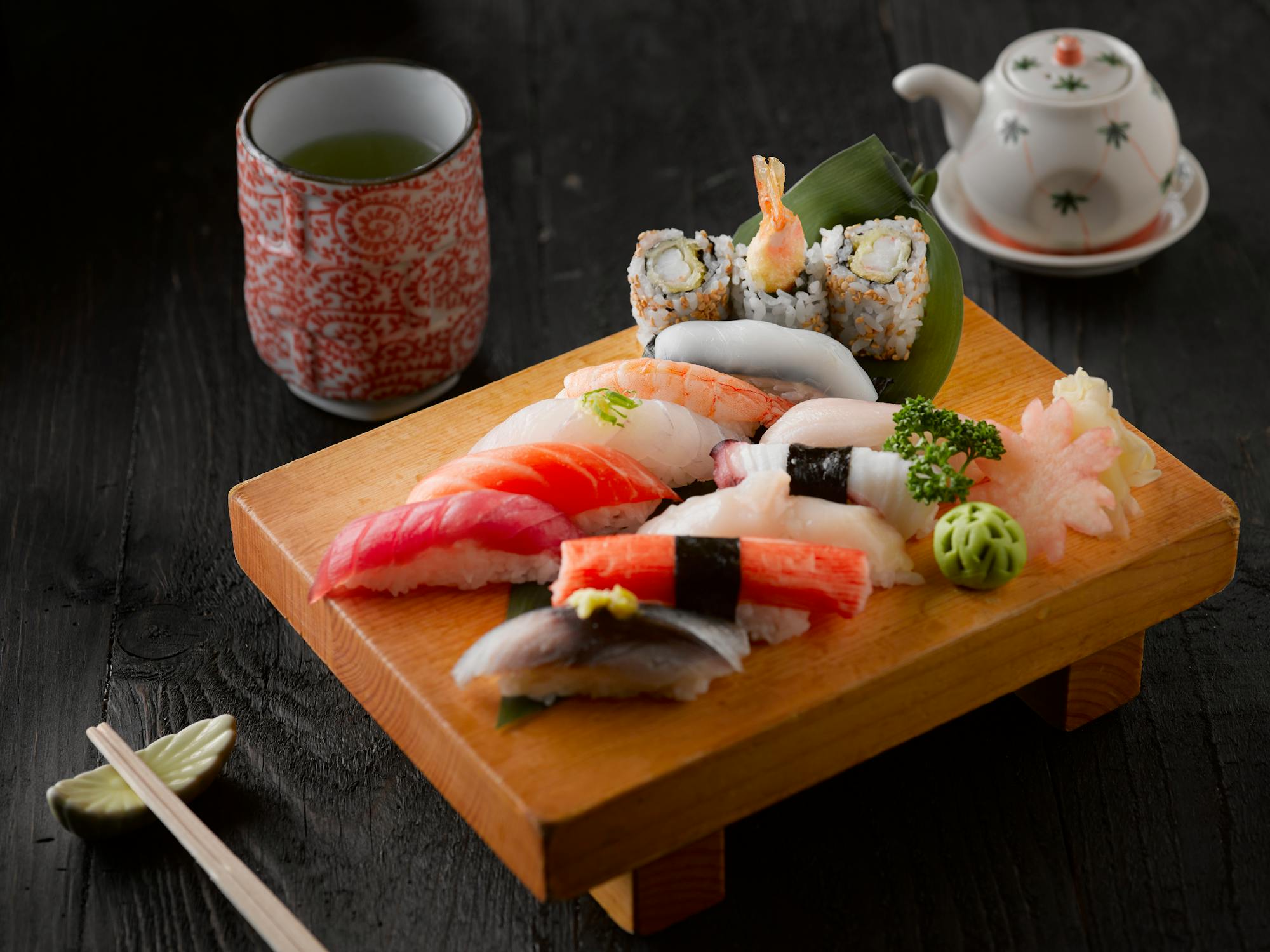 One of the best ways to experience Tokyo's food scene is by trying its many restaurants. With so many different options available, it can be hard to know where to start. That's why we've put together this list of 5 must-try restaurants in Tokyo, Japan, ranging from Michelin-starred establishments to more casual eateries.
Sukiyabashi Jiro is a world-renowned sushi restaurant located in the Ginza district of Tokyo. The restaurant is headed by the legendary sushi master Jiro Ono, who has been making sushi for over 80 years. Sukiyabashi Jiro has earned three Michelin stars and is widely regarded as one of the best sushi restaurants in the world.
The restaurant is intimate, with only 10 seats at the counter, creating a personal and engaging experience for diners. The decor is simple and unassuming, allowing the focus to be on the expertly crafted sushi.
The menu at Sukiyabashi Jiro changes daily based on the availability of the freshest and highest quality seafood. The sushi is expertly crafted by Jiro and his team, using traditional techniques and the freshest ingredients. The sushi is served piece by piece, allowing diners to savor each bite and appreciate the flavor and texture of each ingredient.
While the menu is focused on sushi, Sukiyabashi Jiro also serves a range of other traditional Japanese dishes, such as sashimi, miso soup, and tamagoyaki (Japanese omelet). The restaurant also has an extensive sake and wine list to complement the food.
Due to its popularity and limited seating, reservations at Sukiyabashi Jiro are notoriously difficult to obtain. It is recommended to book several months in advance. The restaurant is open for lunch and dinner, with the best time to visit being during the winter months when seafood is at its best.
Located in the heart of Tokyo's Kagurazaka district, Ishikawa is a Michelin three-starred kaiseki restaurant that offers an exquisite culinary experience. The restaurant is known for its use of fresh, seasonal ingredients and its delicate and intricate presentation of each dish. The chef-owner, Hideki Ishikawa, trained at some of the best kaiseki restaurants in Kyoto before opening his own restaurant in Tokyo.
The restaurant's decor is elegant and understated, with a traditional Japanese design that creates a serene and peaceful atmosphere. Ishikawa has a total of ten seats, offering an intimate and personalized dining experience.
The menu at Ishikawa is a set course that changes regularly to reflect the seasons and the freshest ingredients available. Each dish is beautifully presented, with attention to detail in every aspect from the selection of ingredients to the colors and textures on the plate. Some of the restaurant's signature dishes include sashimi made from the freshest fish, grilled eel served with a rich and savory sauce, and a delicate and flavorful soup made from seasonal vegetables.
The restaurant also offers an extensive selection of sake, wine, and other beverages to pair with the dishes. The staff is knowledgeable and can help diners choose the perfect beverage to complement their meal.
Ishikawa is open for dinner from Tuesday to Sunday and is closed on Mondays. It is recommended to make a reservation well in advance due to the restaurant's popularity and limited seating.
Ukai Toriyama is a traditional Japanese restaurant located in the beautiful Meiji Jingu Gaien area of Tokyo. This restaurant is a paradise for meat lovers, with a menu that focuses on grilled chicken skewers, also known as yakitori. The restaurant has a rustic charm, with wooden interiors and an open kitchen where you can see the chefs expertly grilling the skewers.
The menu at Ukai Toriyama offers a wide variety of yakitori, from traditional cuts such as chicken thigh and breast, to more adventurous options like chicken liver, gizzard, and skin. The chicken is sourced from local farms and is of the highest quality, ensuring that each skewer is succulent and packed with flavor.
Apart from the yakitori, Ukai Toriyama also offers a selection of side dishes such as seasonal vegetables, grilled mushrooms, and steamed rice. The restaurant also has an extensive drink menu, including sake, shochu, and beer, all of which pair well with the delicious grilled meats.
Ukai Toriyama is open for lunch and dinner, with lunch being the perfect time to enjoy a more relaxed atmosphere and smaller crowds. The restaurant is closed on Mondays and during the New Year holiday period.
When it comes to the best time to visit Ukai Toriyama, it is recommended to go in the evening for a more lively atmosphere. The restaurant is a popular spot for locals to gather after work, making it a great place to experience the authentic Japanese izakaya culture.
Ichiran is a renowned chain of Japanese restaurants that specialize in serving scrumptious ramen dishes. The restaurant is especially popular for its signature tonkotsu ramen, which is a rich and creamy pork-based broth that is made by boiling pork bones for several hours, resulting in a deliciously thick and flavorful soup. The tonkotsu ramen at Ichiran is known for its delectable taste and perfect consistency, making it a favorite among ramen lovers worldwide.
One of the unique features of Ichiran is the individual booths in which the ramen is served. These booths are designed to offer customers a more personalized dining experience, allowing them to enjoy their meal in peace and quiet. The booths also come equipped with a bamboo blind that can be pulled down to provide customers with additional privacy. This unique dining concept has made Ichiran a popular choice for those who want to enjoy their ramen without the distractions and noise of a traditional restaurant setting.
Ichiran's commitment to quality and attention to detail is evident in every aspect of their restaurant. From the decor to the presentation of the food, everything is designed to provide customers with a memorable dining experience. The restaurant's interior is minimalistic and features a calming color scheme, which helps create a relaxing atmosphere that allows customers to savor their meal fully.
In addition to its famous tonkotsu ramen, Ichiran also offers other mouth-watering dishes such as tsukemen (dipping noodles), gyoza (pan-fried dumplings), and tamago (flavored boiled eggs). The menu is designed to cater to all tastes and preferences, with vegetarian and gluten-free options also available.
Gonpachi is a traditional Japanese izakaya-style restaurant that has gained international fame after being featured in Quentin Tarantino's "Kill Bill" film. The restaurant is known for its authentic Japanese cuisine, with a focus on yakitori, sushi, and tempura dishes. The atmosphere of the restaurant is lively and fun, making it a popular spot for locals and tourists alike.
The restaurant has a rustic decor with a large open space and traditional Japanese furnishings, creating a cozy and welcoming ambiance. The restaurant also has private dining rooms available for more intimate gatherings.
Gonpachi's menu offers a wide range of dishes, with highlights including the yakitori skewers made with tender chicken and vegetables, the fresh sushi rolls filled with high-quality seafood, and the perfectly crispy tempura battered vegetables and seafood. The restaurant also has a variety of sake and other Japanese drinks to complement the food.
The restaurant is located in the upscale Roppongi district of Tokyo, making it a great spot to start or end a night out. It is open for lunch and dinner, with the best time to visit being in the evening to enjoy the full atmosphere and experience.
Overall, Gonpachi is a must-visit restaurant in Tokyo for those looking to experience authentic Japanese cuisine in a lively and fun atmosphere. Whether you're a fan of "Kill Bill" or just looking for a great night out, Gonpachi is sure to deliver a memorable dining experience.
Whether you're looking for high-end dining or casual eats, Tokyo has something to offer for every taste and budget. And with this list of must-try restaurants, you're sure to have an unforgettable culinary adventure in the city.
If you're planning a trip to Tokyo and want to explore the city's food scene, a food tour is a great way to discover hidden gems and local favorites. You can also check out Tokyo's street food scene, which offers a wide range of tasty and affordable options, from savory takoyaki (octopus balls) to sweet taiyaki (fish-shaped cakes filled with red bean paste).
For sushi lovers, a visit to the Tsukiji Fish Market is a must-do activity. The market is the largest seafood market in the world and is known for its fresh and high-quality seafood. You can even join a sushi-making class to learn the art of sushi-making from a local chef.
Tokyo is a food lover's paradise, with a diverse range of restaurants and food experiences to explore. Whether you're looking for traditional Japanese cuisine or innovative fusion dishes, there's something for everyone in the city. So, be sure to add these must-try restaurants to your Tokyo itinerary and get ready for a culinary adventure like no other.